From the Shelf
One, Two, Three, I Believe in Me
There are tons of Big Ideas in contemporary board books for the pre-reader crowd--quantum physics, thermodynamics, even pizza recipes.... With that in mind, it seems like a good time to bring it back to basics: counting, kindness and self-compassion.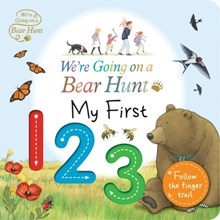 We're Going on a Bear Hunt: My First 1 2 3 (based on the film of the same name, Walker Productions, $8.99) is a gentle counting-based introduction to nature. Each number--one to 10--is debossed, so young children can participate tactilely in "reading" the book, such as by drawing a finger along the downward-pointing dotted line of "1/ One dog sniffing the floor." Every number--"Four ducklings in the water./ Five mice curled up all together"--delineates where the child should start and finish drawing the number and is depicted on a page populated with gentle watercolor illustrations of animals, bugs and plants.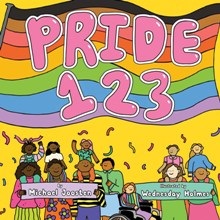 Michael Joosten and Wednesday Holmes's Pride 1 2 3 (Little Simon, $7.99), like Bear Hunt, brings children on a trip from one to 10. Where Bear focuses on the "natural" world, though, Pride 1 2 3 features the "queer" world. Starting with "1 parade in the month of June" and ending with "10 waving flags fly brightly with pride," boldly colored pages with a thick black line depict illustrations of diverse groups making merry.
The second in Scholastic's Wonderful Me board book series ($9.99), written by Lorie Ann Grover and illustrated by Carolina Búzio, is as joyful and colorful as Pride. Like the first book, I Love All of Me, I Believe in Me shows children joyously taking part in everyday actions: standing, clapping hands, dancing, dressing, singing and sliding. Simply, it's an exuberant reminder to young children to love and trust in themselves.

In this Issue...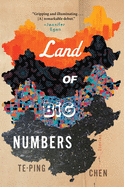 An insightful collection of 10 short stories following the everyday lives of contemporary Chinese people.

When Queen Bitterblue disappears, the daughter of her adversaries gets drawn into her political intrigue in this richly spun fourth volume in the Graceling Realm series.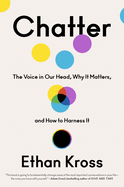 In this entertaining and informative resource, a neuroscientist provides techniques for guiding the inner voice toward more productive, healthier conversations.
Review by Subjects:
Fiction ⋅ Mystery & Thriller ⋅ Science Fiction & Fantasy ⋅ Biography & Memoir ⋅ Business & Economics ⋅ Psychology & Self-Help ⋅ Children's & Young Adult

From Fountain Bookstore
Upcoming Events
05/16/2021 - 10:00AM
Purchase of book from Fountain either in the book, ebook, or Libro.fm audiobook is required. Young Adult (or YA for short) is a very diverse and exciting genre. Our book club is subtitled Adults Who Read YA, so this group is open for those 18+ years old. Email the store to join and to get meeting directions. By attending you agree to our Code of Conduct: Our event provides a harassment-free experience for everyone, regardless of gender, gender identity and expression,...
Fountain of Evidence Book Club
05/17/2021 - 6:30PM
Purchase of book from Fountain either in paper, ebook, or audio is required. Fountain of Evidence features discussions on books in the popular true crime genre, but may occasionally read fiction based on true crimes. Ages 21+ only. Email the store to join and to get meeting directions. By attending you agree to our Code of Conduct: Our event provides a harassment-free experience for everyone, regardless of gender, gender identity and expression, age, sexual...
The Heart Remembers with Jan-Philipp Sendker
05/19/2021 - 2:00PM
Rooted in pathos and told in Sendker's signature gentle style, THE HEART REMEMBERS is, at its core, a novel about love's ability to unify us in the face of hardship. Written from the alternating perspectives of Julia's estranged son, an empathic 12-year-old named Ko Bo Bo, and her brother, U Ba, Ko Bo Bo's uncle and caretaker, THE HEART REMEMBERS delves into Julia's enigmatic past and the personal and political events that fractured her family. Hosted by the owner of Fountain Bookstore...
An Evening with Nick Bruel and the Chesterfield County Library Friends
05/20/2021 - 7:00PM
GET TICKETS HERE Join the Friends of the Chesterfield County Public Library on May 20 as they celebrate their 50th anniversary with a virtual visit from Nick Bruel, author of the Bad Kitty series. Bruel, a New York Times bestselling author and illustrator of both picture and chapter books, will highlight his soon-to-be-published Bedtime for Bad Kitty, a picture book for young children or anyone who has resisted bedtime with the same determined ferocity as Bad Kitty....
Spencer Coursen Presents The Safety Trap
05/20/2021 - 2:00PM
Threat management expert Spencer Coursen shares lessons learned from his decades of global experience as a combat veteran, supervisory special agent, and private security professional to help you avoid life's most common "safety traps" which often hide behind our own false sense of security — because sometimes feeling safe, is the most dangerous thing we do. Hosted by Fountain Bookstore owner Kelly Justice. Spencer Coursen is a nationally recognized threat management...
Book Candy
Fairy Tale Book Restoration
"Self-soothe with this video of a 120-year-old book of fairy tales being restored," Lit Hub advised.
---
"The first American cookbook: sample recipes from American Cookery (1796)." (via Open Culture)
---
Mental Floss recalled "when Abraham Lincoln tried his hand at being a true crime writer."
---
Author Eula Biss picked her "top 10 unconventional essays" for the Guardian.
---
Russia Beyond explored "how Tolstoy's banned novella started a sexual revolution in Russia."

Great Reads
Rediscover: The Wapshot Chronicle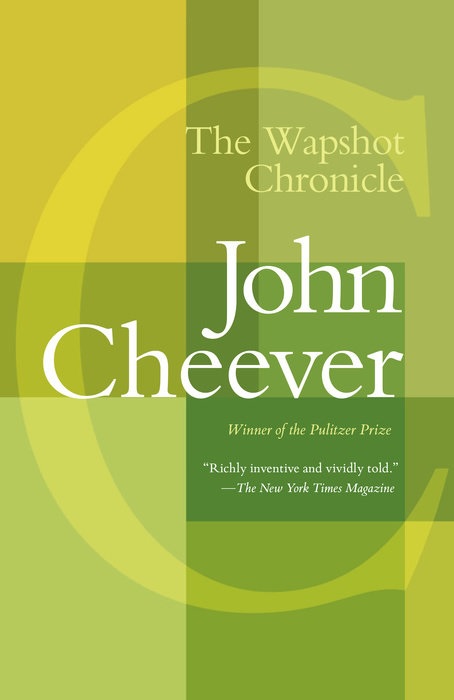 Novelist and short story writer John Cheever (1912-1982), sometimes called the "Chekhov of the suburbs," set much of his work in Manhattan's Upper East Side, the Westchester suburbs or New England villages around Quincy, Mass. His most famous short stories include "The Enormous Radio," "Goodbye, My Brother," "The Five-Forty-Eight," "The Country Husband" and "The Swimmer," most of which were first published in the New Yorker. Cheever also wrote four novels: The Wapshot Chronicle (1957), The Wapshot Scandal (1964), Bullet Park (1969) and Falconer (1977). A short story collection, The Stories of John Cheever, won the 1979 Pulitzer Prize for Fiction and a National Book Critics Circle Award, and its paperback version won a National Book Award in 1981. His final work was the novella Oh What a Paradise It Seems (1982). Cheever received a National Medal for Literature by the American Academy of Arts and Letters six weeks prior to his death from cancer in 1982. His daughter, writer Susan Cheever, revealed her father's bisexuality in her 1984 memoir, Home Before Dark.

Cheever's debut novel, The Wapshot Chronicle, follows the eccentric Wapshot family, who live in a Massachusetts fishing village and share certain autobiographical aspects of Cheever's life, including a bisexual son. It was ranked 63rd on Modern Library's list of the 100 best English-language novels of the 20th century. A sequel, The Wapshot Scandal, follows a Wapshot wife who runs off to Italy with a 19-year-old A&P bag boy. Both books are available today in new paperback editions from Vintage International ($16.95). --Tobias Mutter

The Writer's Life
Te-Ping Chen: The Beauty of Daily Life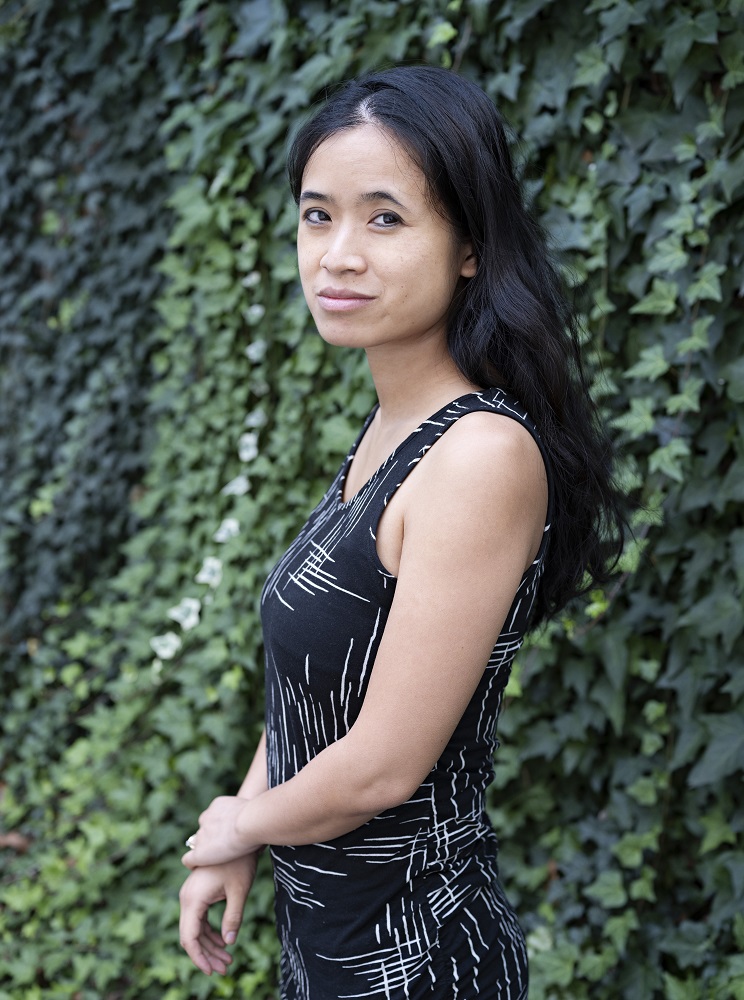 photo: Lucas Foglia
Te-Ping Chen is a fiction writer and journalist, whose debut collection of short stories, Land of Big Numbers (Houghton Mifflin Harcourt, reviewed below), is a portrait of the lives of ordinary people in modern-day China. As a staff reporter for the Wall Street Journal, she lives in Philadelphia and was previously a correspondent in Beijing. She recently chatted with Shelf Awareness about how her experiences in China shaped her writing.
Land of Big Numbers is entrancing from the first sentences. Your language and pacing really bring these vignettes to life. Did you have any specific reasons for wanting to tell a collection of different stories instead of following one character?
That is so enormously kind of you! In some ways it was a byproduct of my life at the time. I wrote Land of Big Numbers while I was working as a journalist in Beijing, and I do think there was something about the short story form that felt really well-suited to the rhythms of my work there, when I'd be reporting or traveling for the paper but also had pockets of time that felt more fallow, where I could dive more deeply into fiction and write in more intense bursts.
And part of what I was attempting to do--to conjure up the country, and the incredible multiplicity I saw around me--just felt naturally suited to the short story format. China is a country that's so sprawling and complex and packed with billions of stories; in some ways I couldn't make myself pick just one. I also had so much fun writing in this genre--the spontaneity of it, the lightness of the form, the way it really allows you to assemble a world through different canvases.
How have your experiences reporting in China shaped and influenced your storytelling?
China is the kind of place that can grab you by the throat and simultaneously make you swoon, all in the course of an afternoon. This book is really me trying to write through and capture the extraordinary nature of the place, as well as the deep emotions I found it provoked, both as a journalist and as a human being. It's an intense place to live, and I felt a deep sense of urgency all during my time there to try to capture those experiences around me, but also a profound sense of inadequacy. I'd take a photograph or write a news story, but it never felt like enough.
That's what really animated these short stories--a desperate feeling of wanting to write it all down. And once I started to write these short stories, it was as though I could finally take a breath.
Has it been easy to switch writing gears between journalism and fiction? Can you speak a little bit about your process in putting together this collection?
Part of what I love about the short story form is how so much of the writing process can be unmapped. Many of these stories started with a stray image or idea, or a voice that suddenly took shape in my head. I might not know who it belongs to, who the character is, or the significance of any one image, but the writing process would reveal it, and that's where a lot of the fun lay.
I didn't know these stories would become a collection, but I was conscious of trying to challenge myself when writing them, of trying to write different kinds of characters, not all of whom I might relate to so readily. Another thing I was conscious of--this might sound silly--but I wanted the stories to have beauty in them. There can be a lot of harshness in daily life in China, and I didn't want the stories to flinch from that, but I also wanted to welcome the reader in and offer pleasure in these stories, too.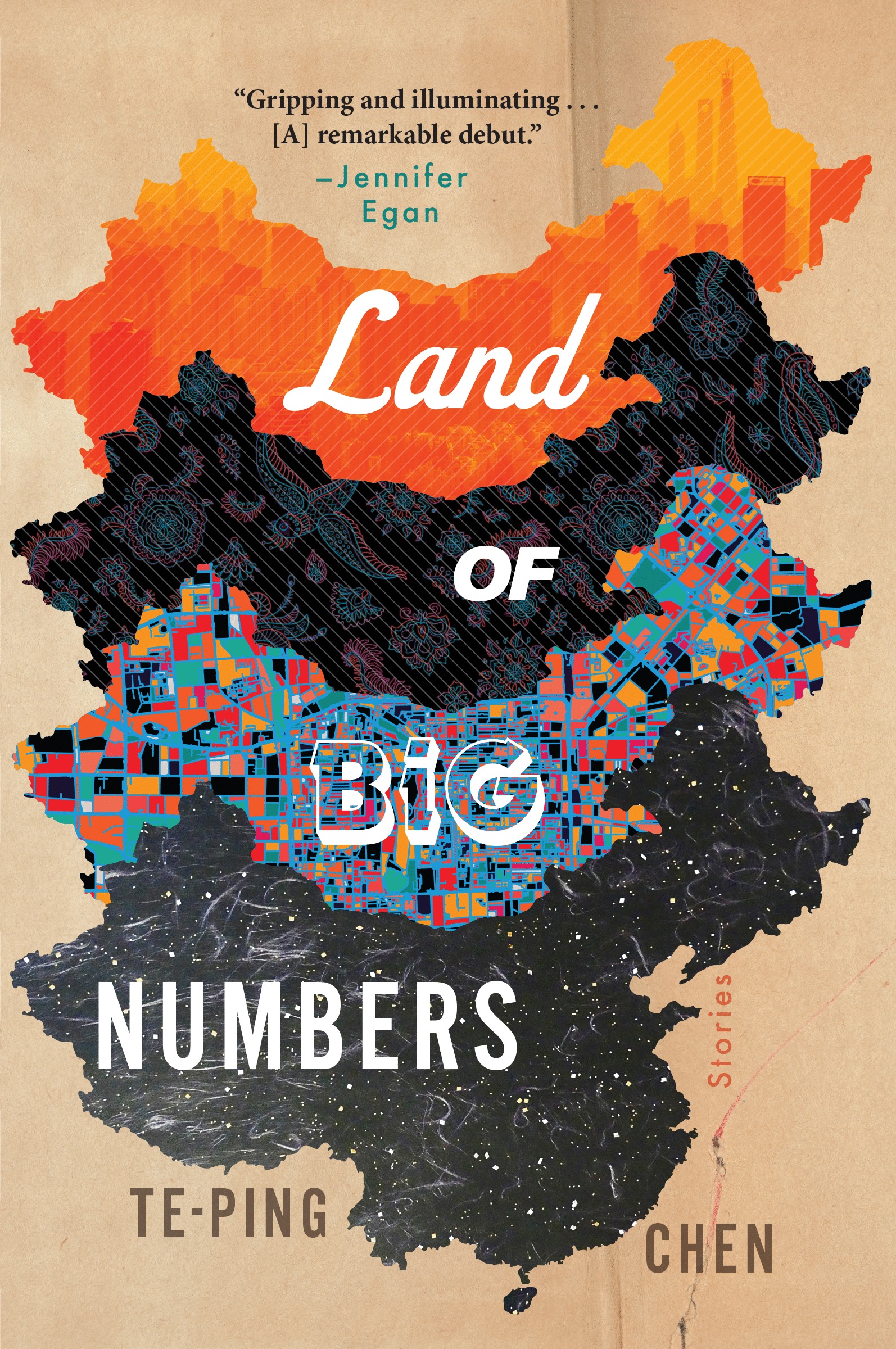 As a writer of both nonfiction and fiction, you tell stories. Does fiction allow you to give voice to the human condition in a way that journalism cannot?
That's such a good question. I think both absolutely give voice to the human condition but can do so in different ways. When I was working as a reporter in Beijing, so often I'd encounter details or scraps or stories that might not have been newsworthy, but still said something powerful about the world. There are so many subtle nuances to relationships, families and lives that don't really have a place in traditional print journalism. I love being a reporter--and am especially grateful for the chances I had to travel in China and get to meet so many extraordinary people--but I also found myself craving a space to share some of the vividness of the world around me in ways that felt more lush and expansive.
Land of Big Numbers starts with the story of Lulu. It is filled with such understated suspense that I think I read the entire piece without even taking a breath. In it, you follow two different paths of the Chinese youth experience. Was this purposefully chosen to be the first story in the collection and do you feel that it sets the tone for the rest of the book?
To me the themes of that story are in many ways the questions at the heart of the book, ones that I wrestled with a lot while living in China (and frankly, upon returning to the U.S., too). How do you make meaning and try to create a life when you're operating in a society that can be simultaneously both so unjust and cruel? What does freedom look like, and what does it mean to be a good person? I felt a lot of love for those characters and their family, and I hope that comes through, both in "Lulu" and other stories in the collection.
What well-worn editions of books would we always find on your bookshelves?
Too many to list! As a child I was obsessed with authors like L. Frank Baum, C.S. Lewis and L.M. Montgomery, and those worlds they created ended up feeling like second homes to me. For short story authors, Maile Meloy, Jhumpa Lahiri, Lesley Nneka Arimah, and Carmen Maria Machado are some of the ones that I return to again and again. Other authors in my own personal pantheon are people like Zadie Smith, Lin Yutang, Richard Yates and Kazuo Ishiguro.
Are you working on another book project?
I'm working on a novel about a pair of sisters who grow up and are estranged during the Jazz Age in Hawaii. It's been challenging to find space to work on it amid the past difficult year, since my husband and I are at home with a very mobile toddler and I'm still working full-time, but also fun to have a world to turn to that's utterly removed from this one. --Grace Rajendran, freelance reviewer and literary events producer

Book Reviews
Fiction

Mariner, $15.99, paperback, 256p., 9780358272557
Schaffner Press, $15.99, paperback, 171p., 9781943156849
Erewhon, $25.95, hardcover, 288p., 9781645660095
Putnam, $27, hardcover, 384p., 9780525542681
Counterpoint, $26, hardcover, 304p., 9781640093362
Mystery & Thriller
Viking, $27, hardcover, 352p., 9780593295847
Science Fiction & Fantasy
Tor, $24.99, hardcover, 432p., 9781250758835
Biography & Memoir
One Signal/Atria, $27, hardcover, 176p., 9781982129811
Business & Economics
Algonquin, $27.95, hardcover, 288p., 9781616209179
Psychology & Self-Help

Crown, $28, hardcover, 272p., 9780525575238
Children's & Young Adult

Dial Books, $19.99, hardcover, 528p., ages 12-up, 9780803741508
Crown Books for Young Readers, $16.99, hardcover, 352p., ages 8-12, 9780593302798
---